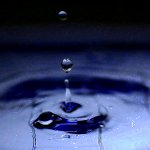 Meaning
Usage
Obsolete: this word has been out of use since before the Middle Ages and was probably last used in Classical Age.

Word type
Noun.

Usage notes
This word served especially to indicate coursing water. Still water would be indicated by using words for lake, sea, and so on. The last centuries this word was used, its meaning also included river.

Derivations
Example sentences
No example sentences use this word.

Related words